82% of buying decisions are made at the point of sale (POPAI, 2018). This makes every single shopper's experience critical to your brand's bottom line.
This is where shopper marketing comes in. Shopper marketing is a strategic way to engage customers at multiple touchpoints and push them to take action.
How can shopper marketing revolutionize your strategy?
What is Shopper Marketing?
The customer's retail experience is constantly evolving, as is the market.
Traditional advertising and promotion work on increasing the overall awareness of a brand. Shopper marketing, however, is very much aimed at last-minute appeals at the moment of purchase.
Shopper marketing focuses entirely on improving the retail experience for consumers to increase sales in-store and online at point-of-purchase.
Types of Shopper Marketing
Effective shopper marketing analyses a consumer's purchasing experience and boosts engagement at various points throughout it.
Multiple types of shopper marketing specifically focus on enhancing engagement;
Displays
Attention-grabbing displays can make it easier for consumers to navigate in-store. End-of-aisle displays are especially effective so that their experience remains easy and uncrowded.
Signs throughout the store can nurture shoppers and gently lead them to commit to choosing your product.
Creatives at the point of sale are a great way to convince spontaneous action from customers as well.
Demos & Samples
Demos and samples are a great tactic to overcome objections. If consumers aren't familiar with your brand, this is a great way to introduce your product and initiate trust.
A great strategy to build excitement and establish awareness simultaneously.
Ambiance
58% of consumers globally say that engaging video content has a positive impact on their shopping (Global Mood Media Study).
Music is highly applicable to shopper marketing as it establishes ambiance and changes the overall retail experience.
Integrating sensory aspects into the retail customer experience is another way shopper marketing can build loyalty and increase sales at the point of purchase.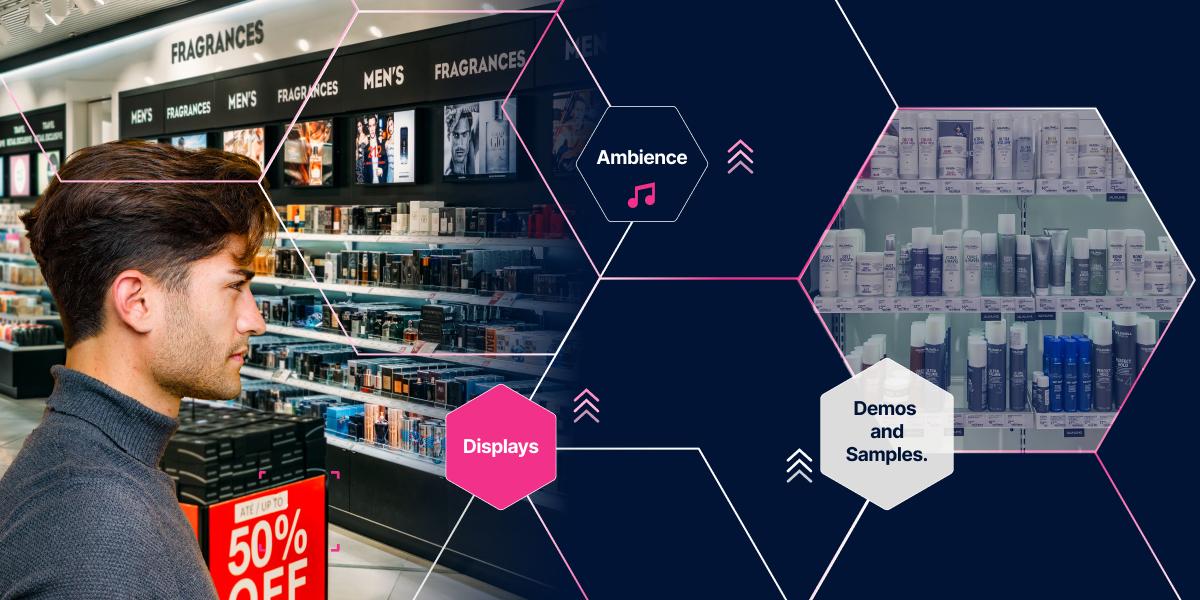 Why is Shopper Marketing Important?
The core priority of shopper marketing is to persuade consumers to purchase. Shopping behavior has evolved and there is an expectation of personalized experiences from brands.
1. Increases brand loyalty
Shopper marketing campaigns give brands the platform they need to establish a relationship with their ideal customers based on trust. Trust leads to loyalty and loyalty is the golden ticket.
When you understand your customer you can develop packaging, advertisements, in-store promotions, campaigns, and more based on their journey and their specific needs. The retail experience and purchasing journey should mirror your consumers so that they receive relevant, useful content that fuels loyalty over time.
2. Boosts engagement
Thanks to data you know more about your consumers than ever before. You can identify what grabs their attention, how they prefer to shop, what their interests are, who they are, and more.
Using the tools at your disposal to promote a product based on your target consumer will positively impact engagement.
3. Increases ROI
Typical promotions are launched to push sales. Shopper marketing is in a separate league because they drive the moment of truth, the singular interaction on the cusp of the purchase moment.
This hot point of sale is where purchasing decisions can be made on the spur of the moment which is why shopper marketing has such a great track record of increasing ROI.
Shopper Marketing Strategy
Shopper marketing is all about engaging consumers on their path to purchase. From the moment they step in-store, click on your website, see your billboard or watch your video ad until they commit to purchasing.
To effectively compete with shopper marketing takes an understanding of your consumers. Your brand should continuously create value that resonates with your ideal customer.
Build out your shopper marketing strategy by following these focus areas;
1. What makes your brand special
Is there a clear story about your brand? Does the messaging explore this effectively?
What are you doing to make sure your messaging lands?
Your brand identity is crucial when designing a shopper marketing strategy so make sure to connect with your consumers.
2. Consider your consumers' wants
Figure out what your consumers are looking for and then make sure the outcomes for them are clear.
Are your consumers interested in brands that regularly engage with their audience or are they simply seeking out a new product?
Make sure to create resources that will be available to your consumers at pivotal points within their retail experience based on their needs.
3. Look to the future
Don't just envision the transaction. Think about the entire purchasing journey from start to finish.
Every stage of the funnel should have a plan in place, not just conversion but awareness and consideration too. Measuring results along the way will give you the data you need to continue to improve your strategy.
4. Consider the input
Money has to be part of the discussion if you want an ongoing strategy that makes a long-term impact.
You need to think about how much of your budget you can allocate to shopper marketing, specifically when it comes to audience acquisition, digital ad creation, content production, and creative testing.
Shopper Marketing Technology
Shopper marketing campaigns play a pivotal role across channels for your brand. Having data insights that ensure creative quality at speed is what will set your brand apart.
The use of predictive visual analytics processed by Artificial Intelligence (AI) allows brands and retailers to take proactive, data-informed steps to improve the shopper experience and boost the chances of their products being noticed and bought.
Dragonfly AI technology can help you to analyze your shoppers' user experiences and provide instant insight to improve the visibility of your products in complex retail environments and to maximize attention drawn to your visual merchandise.
You can improve the experience of the in-store environment. Predictive visual analytics processed by AI can show you – ahead of time – exactly where customers will look as they travel through the physical or digital store environment, which thereby helps you to ensure your shopper marketing campaigns are 'human-ready' to achieve the best attention they can be before the shopper ever walks in.
Optimize your packaging design with optimized visual saliency. Run up to 26 different multi-variant tests on a single product, helping you to measure and ensure your package design's effectiveness with ease before launching your campaign into the real world.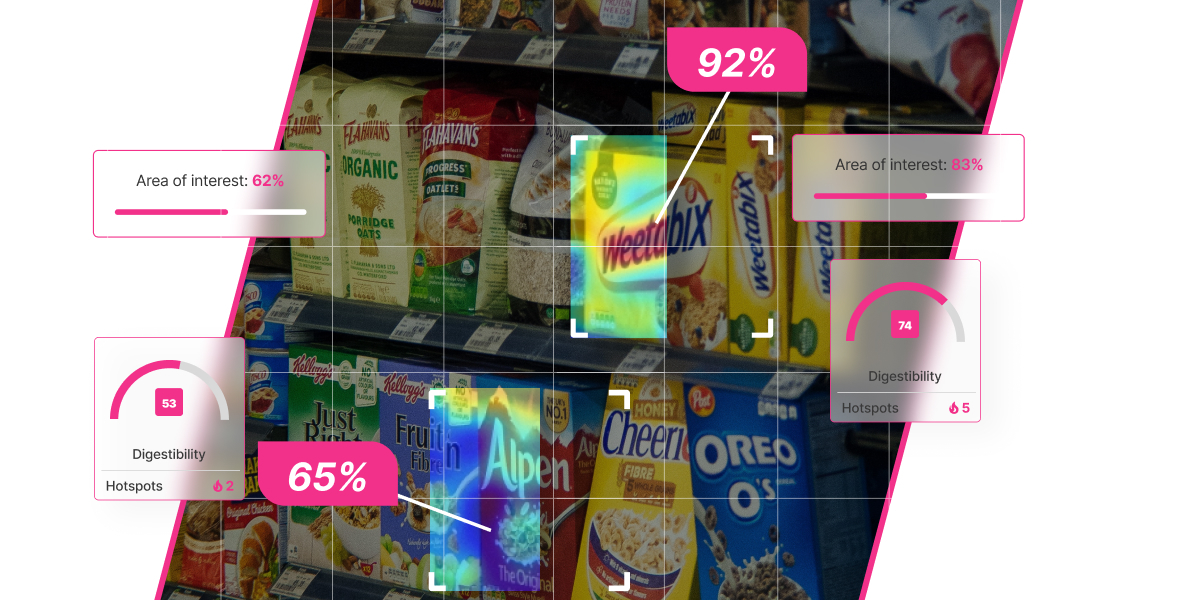 Increase ROI with Strategic Shopper Marketing
Shopper marketing is a long-term strategy that increases ROI, builds relationships with consumers, and establishes advocates.
There are several ways to implement the techniques and using a tool such as Dragonfly AI will ensure that your creative is relevant, focused, and data-informed for higher performance and success.
See how to incorporate data insights into your shopper marketing campaigns by booking your brand-tailored demo here.