AI-driven predictive visual analytics is changing the game, empowering brands to optimize their campaigns by leveraging the power of AI.
Heatmaps offer brands insight about attention; where will consumer attention be within the first 2 seconds, for example, or which part of the creative is causing distraction rather than adding value?
Here are the top 5 big juicy benefits of heatmaps for you;
1. Improve the performance of digital pack shots
The predictive heatmaps help you to identify how consumers digest visual information on your product packaging.
Identify which elements within your current design are winning attention and in what sequence. Is the consumer seeing what you want them to see when you want them to see it? Let's say your product is a jar of honey. Is the right element taking priority? Do you have the logo in the best place?
You'll see via clearly visualized heatmaps, exactly what's working– and what isn't – before your product ever reaches the consumer. Quantify the visual saliency of your current design with metrics that help your designers tweak, improve and optimize the final draft long before you pay for production.
You can also run A/B testing for any number of variants of your packaging design, to remove subjectivity from design process and give you an unbiased report within seconds. Create internal standards for on-pack visual hierarchy while ensuring your product has the best possible chance of being spotted by your target consumer.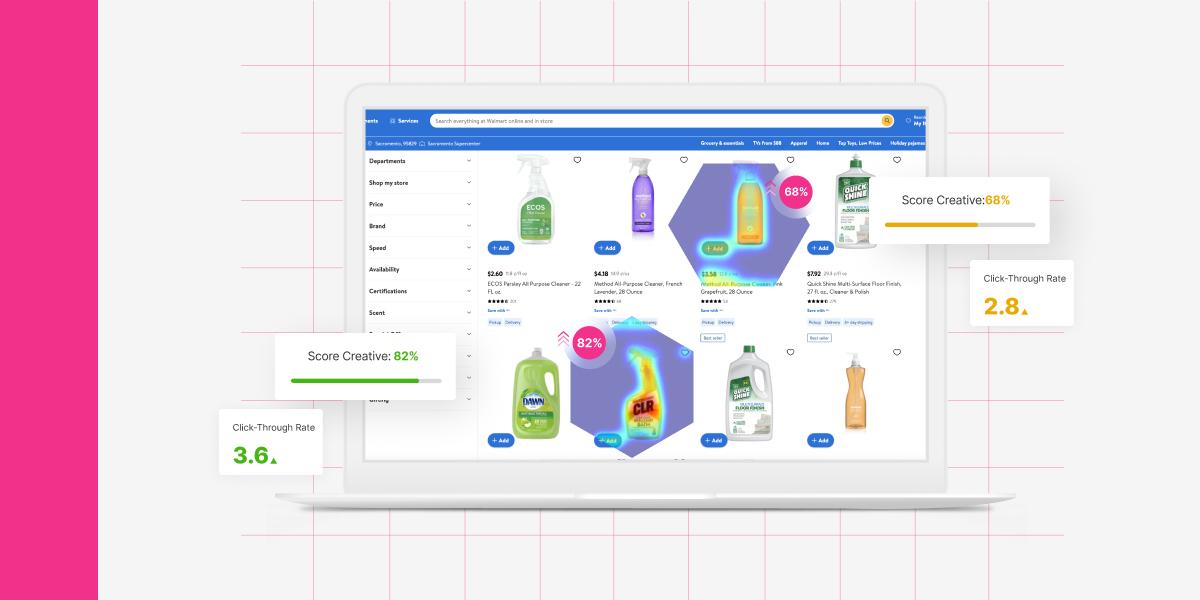 2. Increase your share of attention on shop shelves
Predictive heatmaps help you to see clearly which of your key assets are being spotted by the customer first.
Heatmaps can also show you how the entire package stands out in the context of a shelf when surrounded by competitors. If a customer is already looking for your product, there's a good chance they'll recognize it if they see it. However, if the customer is interested in a product range or even an impulse purchase, then it is even more crucial that you catch their attention before your competitors do.
Harvard professor Gerald Zaltman, famously claimed that 95% of our purchasing decisions are made subconsciously. Ensure that your product is picked up by the subconscious shopper. We analyze real-world scenes in real time to see how your product is faring against competitors. Position yourself effectively, long before your product goes live, by creating a mock-up shelf and running variant tests to see how your product would eventually stand out 'in the wild'. This ensures that you maximize your brand exposure once your product does eventually make it to the shelf.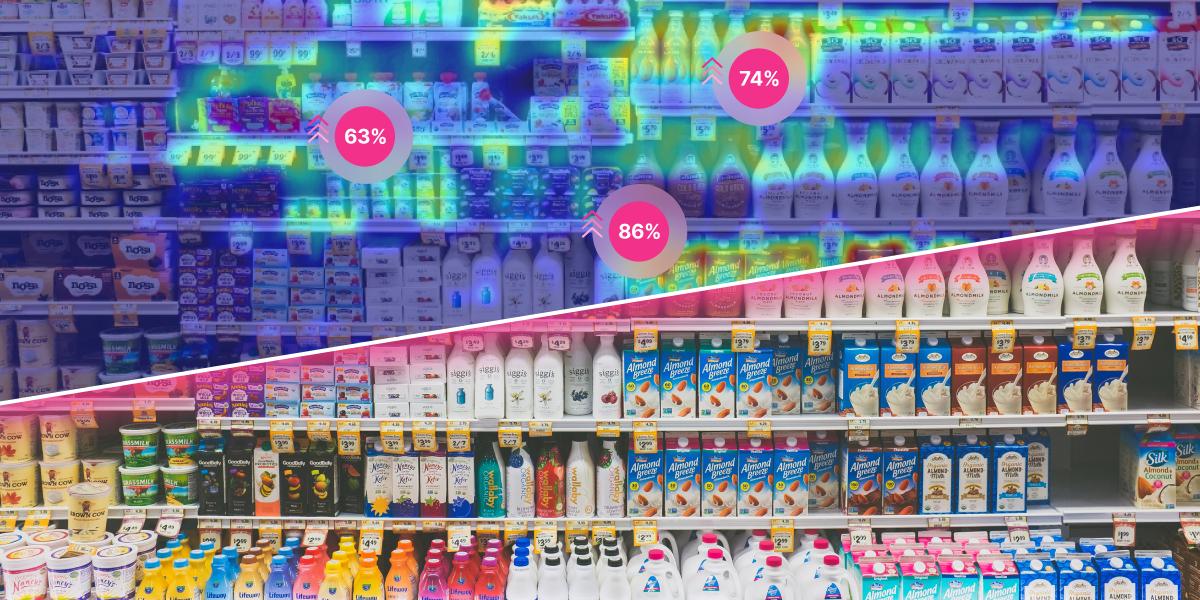 3. Optimize your website's path-to-purchase journey
Consumers tend to follow the path easiest for them. This means it's important to give them quick and obvious routes to purchase.
Implement predictive heatmaps to make sure it's as simple as possible for your customer to get from your home page to check-out, in the fastest possible time.
Discover how effective your current set-up is and how to improve the user experience (UX) from an emotional perspective in a way that is conducive to quick decisions and doesn't distract a user from making a purchase.
Predictive heatmaps help you to streamline the path-to-purchase by reducing unnecessary noise and drawing shoppers directly to the critical elements. This process helps you to increase online sales by reducing drop-off and cart abandonment rates.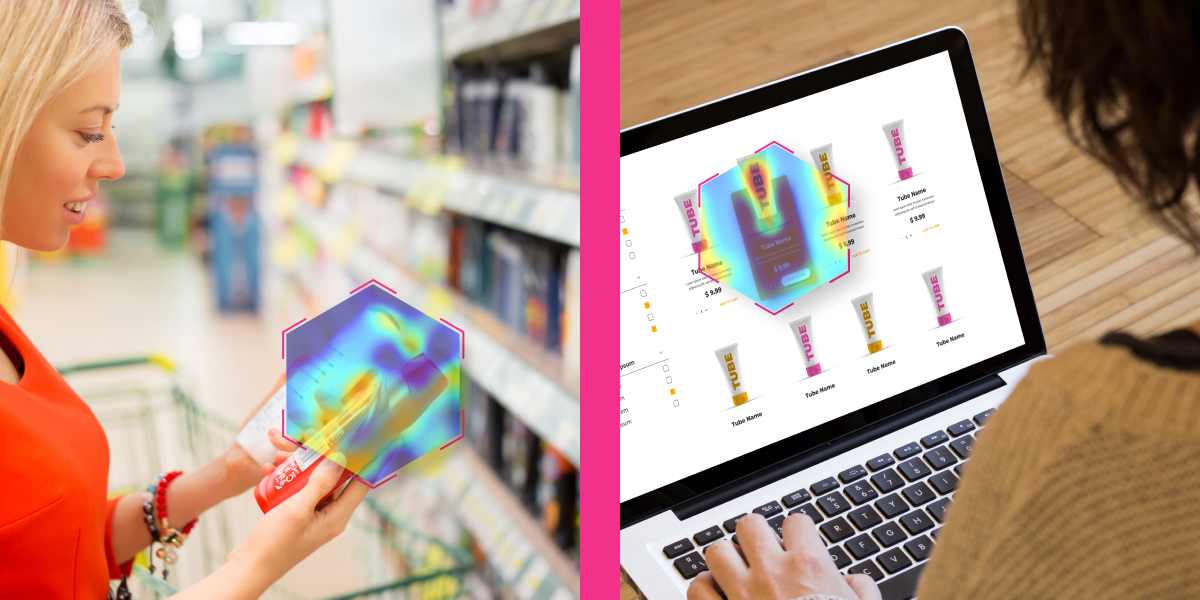 4. Increase adoption of low-cost support channels
If a customer is browsing your website and you want them to telephone your call center or pay by direct debit as a zero-cost self-serve option, for example, predictive heatmaps can show you exactly how to make the 'call-to-action' button more attention-grabbing on the web page.
In web design, if you provide a form field where a user has to select a drop-down menu, most will click on the top option rather than the correct one. That's just down to online behavior. Predictive heatmaps, however, show you exactly where and how to optimize the element that you need to appear more obvious to a user, in order to get them to move more quickly and efficiently from A to B
The call-to-action is usually the most important part of the process, so, by getting this right, you solve customer queries faster and improve customer satisfaction. Actionable heatmaps help you to help your customer find relevant information more easily, ensuring you decrease the burden on your customer support team and reduce support costs by encouraging customers to increase their adoption of self-service channels.
5. Improve click-through rates on key promotion
When you conduct a traditional A/B or MVT (multi-variant) test on a webpage, you normally have around three or four options of the layout that you test over a week or so, during which time you collect and analyze the performance data created by all the users who click through the site.
This helps you ultimately to choose whichever layout design performed best for your requirements. With Dragonfly AI, however, we use our own bespoke variation testing where you can conduct up to fifty predictive tests per hour. This means that you can test multiple layout variants long before your site goes live, analyzing each element's share of attention within every layout provided.
On one particular web page, the area of interest (AOI) might be your '50% off' promotional banner or your call-to-action button like 'Book here' or 'Buy now'. Our heatmap shows you the saliency hierarchy of all of these elements so that you can adjust your design until all of your AOI are receiving the intended attention. Once you do publish, you know that you've already maximized the visibility and efficacy of your key campaign content, which thereby streamlines the UX and increases your campaign ROI. This process also helps you to build intelligence on how design impacts performance and gives you the best possible chance of winning attention in today's hyper-competitive, post-pandemic market.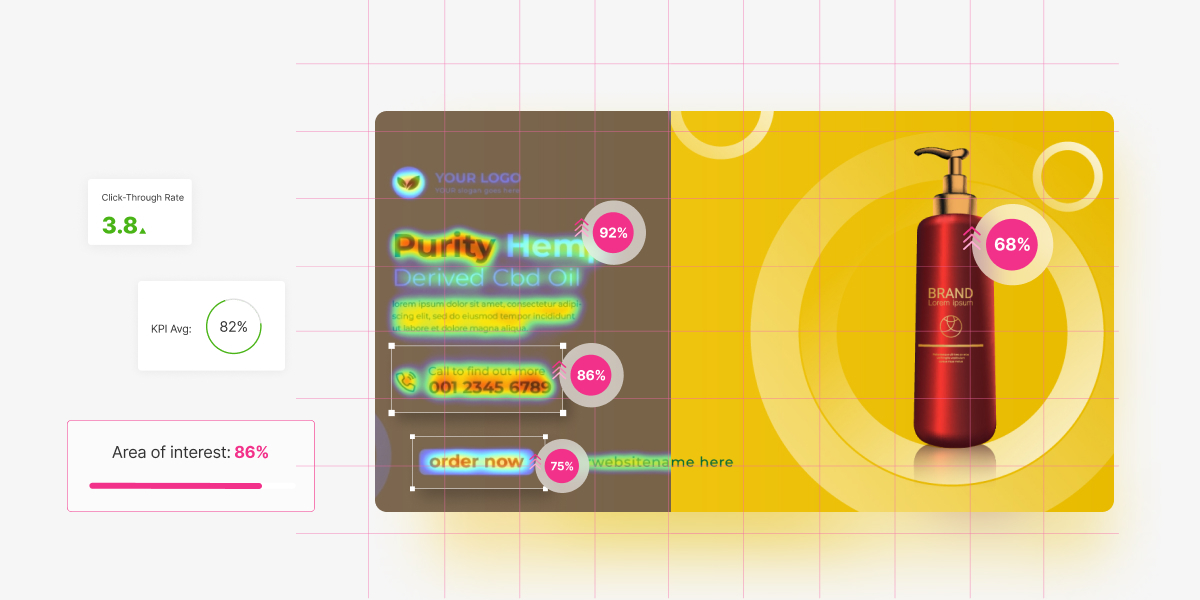 To find out more about how Dragonfly AI can help you optimize your content, book your personalized demo.
other topics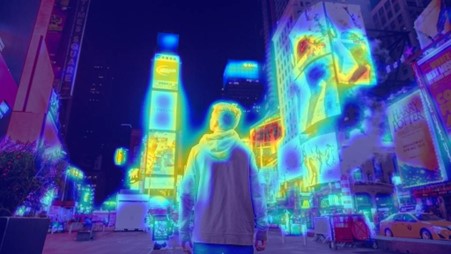 What is a Heatmap?
Heatmaps are a valuable tool when it comes to visualizing and understanding how customers react to...