Generative AI stands as a revolutionary tool in the creative industry, reshaping the landscape of artistic expression and innovation. Its significance is underscored by its ability to enhance human creativity, generating fresh ideas and content that expand the horizons of imagination. Ethical considerations remain paramount to preserve the authenticity of human ingenuity. In essence, generative AI's profound importance lies in its capacity to propel the creative domain towards uncharted territories, forever transforming the way we conceive and craft art.
The Big Event
The Generative AI for the Creative Industries summit takes place on the 12th and 13th of September at the Emirates Stadium in London.
The event strives to amplify creativity and commercial success with the power of AI. This is no ordinary conference; it is an industry-led approach that gives creatives and AI companies a forum to discover new opportunities.
Not only is the agenda packed to the rafters with exceptional speakers, it also promises to deliver key discussions about AI and creativity, storytelling and ad campaigns, leveraging GenAI for consumer activations, the power of AI in predictive marketing and so much more.
It seems fitting that Dragonfly AI is an official partner for the event given the role of our AI tool for so many leading brands.
Panel Discussion: AI-Driven Content Strategies for High-Impact Campaigns
James Harvey, Chief Product and Technology Officer, Dragonfly AI, will discuss AI-driven content strategies for high-impact campaigns alongside Vodafone's Global Creative Director, Sabrina Godden, and Kraft Heinz's Head of Data and Analytics, Matt Cosad.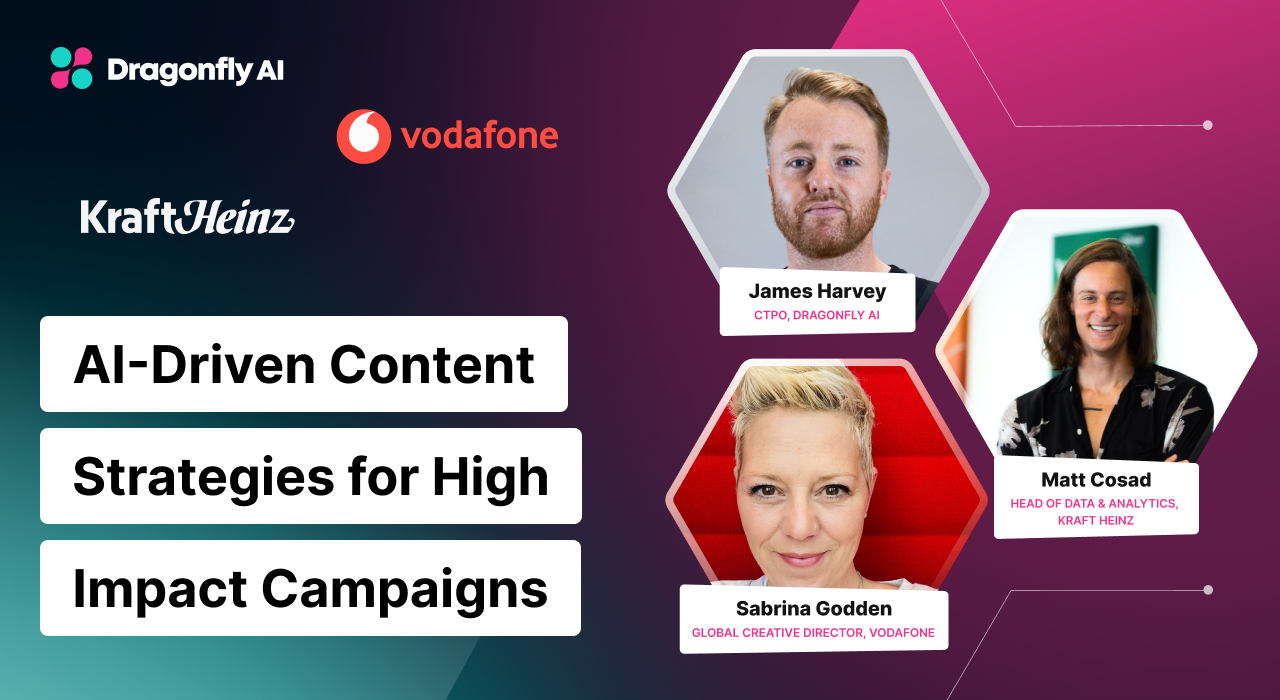 The panel will be moderated by Mark Whelan, Havas UK's Chairman and Chief Creative Officer.
James is looking forward to the panel discussion saying: "In the era of AI-driven content strategies, we are at the crossroads where innovation meets tradition, where the computational prowess of machines harmonizes with the ingenuity and creativity of the human mind. As we sail through these uncharted waters, it becomes imperative to foster a symbiotic relationship with AI, leveraging its capabilities to fuel high-impact campaigns, while ensuring the human touch remains at the helm, guiding us towards narratives that resonate on a deeper level."
Notable Speaker Line-Up
There are some incredible speakers taking the stage over the two-day event. Leaders in the AI and creative fields from companies such as;
Adidas

Amazon

BBC

Colgate-Palmolive

Coca-Cola

L'Oreal

McDonald's

Unilever

Virgin Media
It is set to be one of the most disruptive, impactful, and insightful events of the year!
Deep Dive into AI for the Creative Industries
You can get your tickets to level up your knowledge here.
There are limited discounted tickets available until the 7th of September when the full-price tickets will be available!
Don't miss out on this one-of-a-kind opportunity to be led on an exploration of AI for the creative industries by leading experts.